Black Belt Eagle Scout
Written by daybreak on February 13, 2023
Katherine Paul who performs under the name Black Belt Eagle Scout, is a Native American singer, songwriter and guitarist who hails from the Swinomish Indian Tribal Community in the state of Washington. Her music is a unique blend of indie rock and folk, infused with elements of her indigenous heritage.
Paul began her music career as a teenager performing at local events and festivals. She quickly caught the attention of the music community, and was soon signed to independent label Saddle Creek Records. In 2018, she released her debut album, Mother of My Children, the album showcases Paul's powerful vocals and introspective lyrics, exploring themes of love, loss and identity.
Paul's music is also heavily influenced by her Indigenous heritage. Songs such as 'Half Coloured Hair' and 'Soft Stud' explore the complexities of being a Native American woman in a world that often marginalises and stereotypes her people. Paul's music is a powerful reminder that indigenous voices deserve to be heard and respected.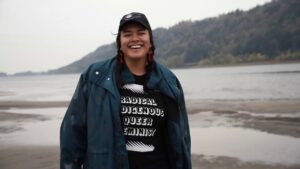 Paul's live performances are equally captivating. Her powerful voice and raw emotion are on full display as she sings, strums her guitar and tells stories of her life and heritage. Her live shows have been described as intimate and moving experiences that leave audiences feeling uplifted and inspired.
If you're looking for something new and different, I highly recommend giving Black Belt Eagle Scout a listen. With her powerful vocals and moving lyrics, she's sure to leave a lasting impression on any music lover.
You can find Black Belt Eagle Scout on Twitter under the handle @blackbelteagles, Instagram under the handle @blackbelteaglescout, on popular music streaming platforms and on her official website blackbelteaglescout.com
---