Paige Pettibon: The Voice of Hope and Inspiration
Written by daybreak on February 23, 2023
Daybreak Star Radio Network has been inspiring and empowering listeners since its inception, but one voice that stands out is that of Paige Pettibon. Her captivating personality and positive energy have been a beacon of hope and inspiration for all across the airwaves.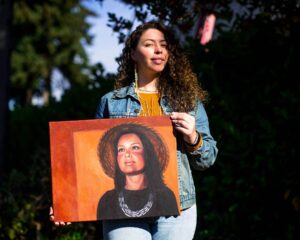 Paige Pettibon is an artist based in Tacoma, Washington. Her work is in the fine visual art. Woking with multiple mediums such as acrylics, oils, watercolor, fiber art, jewelry, digital design, and other media.
Paige is Black, White, and Salish (from the Confederated Salish and Kootenai Tribes). Paige is influenced by her multicultural background. Her work has been shown at the Tacoma Art Museum, Smithsonian, and art galleries in the Puget sound region. Plain to Sea jewelry has been strongly supported by collectors nationwide.
Paige has exhibited her work in galleries and art shows throughout the Pacific Northwest, and her pieces have received critical acclaim for their originality and technical mastery. She has also worked on various commissions and collaborations, and her work can be found in private collections and public spaces.
Check out her website: https://www.paigepettibon.com/
---