Discover Positive Vibes and Unique Sound of the Blue Mountain Tribe
Written by daybreak on April 3, 2023
Today we want to talk about an exciting band that's been making waves in the rock scene: the Blue Mountain Tribe.
If you're not already familiar with their sound, you're in for a treat. The Blue Mountain Tribe blends rock, folk, and blues to create a truly unique sound that's hard to resist. Some of their most popular songs include "Mountain Haze", "Wilderness", and "Thunderbird". With their blues riffs and melodies and powerful lyrics, they're sure to become a staple in your music library.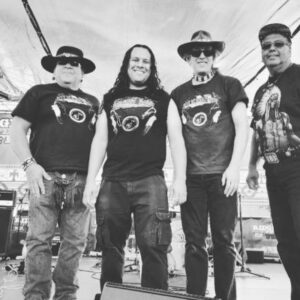 But it's not just their sound that sets them apart – it's their message too. The Blue Mountain Tribe is all about promoting positivity, peace, and love. Their lyrics often touch on themes of nature, spirituality, and community. They want to inspire their listeners to live in harmony with the world around them and to treat each other with kindness and respect.
At Daybreak Star Radio, we believe in supporting up-and-coming artists like the Blue Mountain Tribe. We're proud to play their music on our station and we hope to see them continue to grow and thrive in the music industry.
If you want to keep up with the latest from the Blue Mountain Tribe, be sure to follow them on social media and check out their website. You can find them on Instagram and Twitter at @bluemountaintribe, and their website is bluemountaintribe.com. Don't miss out on their upcoming shows and new releases – follow them now!
---