John Hitchcock: "Bury the hatchet"
Written by daybreak on March 21, 2023
John Hitchcock is an artist and educator who draws inspiration from his Native American heritage. His works explore colonization, identity, and environmentalism using layering and mixed media. He has taught at several universities and received numerous awards, including a Joan Mitchell Foundation Grant and a United States Artists Fellowship. His works can be found in major museum collections.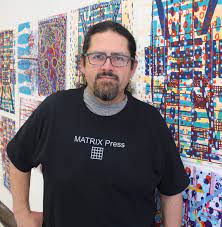 "Bury the hatchet" is a common phrase that refers to making peace or ending a conflict. It is also the title of a 2016 print series by John Hitchcock that explores the complex and often painful history between Native Americans and European colonizers. The prints feature layered images of hatchets, guns, maps, and other symbols that represent the violent clash of cultures that occurred during the colonization of North America.
Through "Bury the hatchet," Hitchcock aims to confront the difficult truths of history and promote healing and reconciliation between Native and non-Native communities. The series has been exhibited at galleries and museums across the United States and has been praised for its powerful and thought-provoking message.
Learn more about John Hitchcock on his website:
https://www.hybridpress.net/
---