Innastate Talks Touring & Behind the Scenes
Written by daybreak on September 29, 2023
Join Innastate for an exciting glimpse into their life on the road and the creation of their upcoming music! In this candid interview, the band shares their touring adventures, the places that inspire them, and what it's like to bring their music to diverse audiences across the country.
Get an exclusive preview of their new music projects, as Innastate discusses their creative process, songwriting inspirations, and the fusion of reggae and rock that sets their sound apart.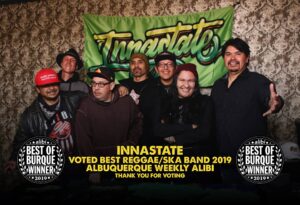 Discover the behind-the-scenes stories of life on tour, the connections they make with fans, and how their Native American heritage continues to shape their musical journey.
Don't miss this opportunity to be a part of Innastate's musical exploration.
---