Chef Sean Sherman Interview
Written by daybreak on October 29, 2022
Daybreak Star Radio is honored to have the chance to interview James Beard award winning chef, restaurateur, author, speaker, and founder of a Non-Profit dedicated to addressing the economic and health crises affecting Native communities by re-establishing Native foodways.
Chef Sean Sherman will be speaking at an in-person and virtual event
at Seattle Public Library on November 4th at 7pm PST. 
To register for free CLICK HERE
Chef Sean Sherman: "The Revolution of Indigenous Foods of North America."
From 7 p.m. to 8:30 p.m. PST, Friday, Nov. 4. Central Library (Level 1 Microsoft Auditorium) and online. Chef Sean Sherman, author of "The Sioux Chef's Indigenous Kitchen," will share his journey of discovering, reviving and reimagining Native cuisine.
This is the second event in the fall public engagement series guest-curated by Seattle poet Shin Yu Pai; during the Nov. 4, Sherman will be in conversation with Pai.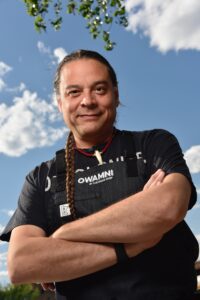 Chef Sean Sherman, Oglala Lakota, born in Pine Ridge, SD, has been cooking across the US and Mexico over the past 30 years, and has become renowned nationally and internationally in the culinary movement of Indigenous foods. His main focus has been on the revitalization and evolution of Indigenous food systems throughout North America. Chef Sean has studied on his own extensively to determine the foundations of these food systems to gain a full understanding of utilizing Native American ingredients in today's cuisine. In 2014, he launched The Sioux Chef as a caterer and food educator in the Minneapolis/Saint Paul area. He and his business partner Dana Thompson designed and operated the Tatanka Truck food truck, which featured 100% pre-contact foods of the Dakota and Minnesota territories.
In October 2017, Sean created the first decolonized dinner at the James Beard House in Manhattan along with his team. His book, The Sioux Chef's Indigenous Kitchen, was awarded the James Beard medal for Best American Cookbook for 2018 and was chosen one of the top ten cookbooks of 2017 by the LA Times, San Francisco Chronicle as well as the Smithsonian Magazine. Also that year, Chef Sean was selected as a Bush Fellow, and received the 2019 James Beard Foundation Leadership Award.
"We are committed to revitalizing Native American Cuisine and in the process we are re-identifying North American Cuisine and reclaiming an important culinary culture long buried and often inaccessible."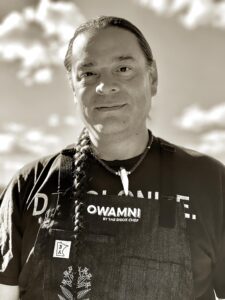 The Sioux Chef team works to make indigenous foods more accessible to as many communities as possible. To open opportunities for more people to learn about Native cuisine and develop food enterprises in their tribal communities, we founded the nonprofit North American Traditional Indigenous Food Systems (NATIFS) and are working to launch the first Indigenous Food Lab restaurant and training center in Minneapolis.
Purchase his cookbook: The Sioux Chef's Indigenous Kitchen
Dine at his restaurant: Owamni in Minneapolis
Donate to his Nonprofit: North American Traditional Indigenous Food Systems (NATIFS)
---