---
Julian Taylor shows
---
Julian Taylor's Jukebox, a new 3-hour radio show, launches this coming Sunday as thepopular ELMNT-FM, Spirit of Toronto, afternoon drive-show host and established roots musician creates his own music show. One of Canada's best-loved musicians, Julian Taylor, has a new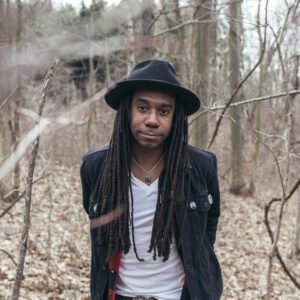 syndicated radio show, airing weekly on stations across Canada and is sharing it with Daybreak Star Radio! Taylor has several albums with his band and is also a solo performer.
Every Sunday from 3pm to 6pm PST.
Julian Taylor is a Canadian singer-songwriter, of mixed Black Canadian and Mohawk descent. He has made music and toured extensively throughout North America since founding the band Staggered Crossing in 1997, and continuing on to the Julian Taylor Band, playing an eclectic mix of Americana, funk, soul and rock music. His songs have appeared in television series including Degrassi: The Next Generation, Elementary and Haven. On the back of his breakout 2020 solo album The Ridge, he received two JUNO nominations, was long-listed for the Polaris Music Prize, and was Solo Artist of the Year award winner at the 2021 Canadian Folk Music Awards. He is currently working on his next full-length studio album.
Check out the show's FBook page here: https://www.facebook.com/JulianTaylorsJukebox.
One of Daybreak Star Radio's Favorite tunes is Ballad of a Young Troubadour
"I've been able to carve out my own niche as a musician because I feel like I can do want I want to," says Taylor. "I've been able to go back to the drawing board as I keep experiencing failure after failure and see how I've grown and learned from those failings. And I'm ok with that. I'm here because of the people who love and support me, my belief in myself, and the ability to get up every time I haven't succeeded to keep on trying. I feel so fortunate to have created the music that's on The Ridge. I'm really proud of it." 
Taylor's inherently cinematic approach to his storytelling has a lot to do with his heritage and upbringing. "It's an interesting thing to be part Mohawk and part West Indian, because I've always had this feeling that I never fit in anywhere," he admits. "As a mixed person, it's like, oh, where do you go, and how do you connect with people? That's all I've been trying to do, and my life experience as a person who is mixed helps me do that. These stories are all coming from a person who tries to fit in, but doesn't quite fit in. That's really what my work has always been about — that longing to be a part of something."
This multitalented host will bring you some of the best music to ease you into your Sunday evening.
---