---
Allen Pinkham Jr. shows
---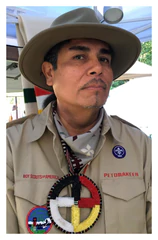 Embark on the Journey: Allen Pinkham Jr.'s "EO EST"
Greetings to all tuning in,
I'm Allen Pinkham Jr., a man whose roots delve deep into the rich soil of our heritage as a proud member of the Wallowa and Palouse bands of the Nez Perce tribe. For three decades, I've dedicated my life to the preservation and education of our culture, teaching drum-making workshops that resonate with the heartbeat of our traditions. For twenty years, I've also shared the profound beauty of Native American traditional art, guiding eager minds through the intricate dance of creation.
When the teaching tools are set aside, my hands craft canoes from the whispering woods, as my ancestors did. The call of the wild beckons me to traditional hunting, to the rivers for fishing, and to the forests for gathering, as I live the practices that have sustained our people through time.
Every Wednesday at 3pm PST, I invite you to join me on "EO EST" — a Latin phrase meaning "going there." This isn't just a show; it's a journey. Each week, I'll take you along for the ride across our lands and through the annals of our stories. From the vibrant energy of Pow Wows to the fierce competition of Stick Ball, from the enduring Relay races of our people to the issues that touch our lives today, "EO EST" is your weekly passage into the heart of our world.
Together, we'll explore the traditions that define us and the contemporary currents that shape our journey. I'll share with you the experiences, the people, and the places I encounter, both within the native sphere and beyond. "EO EST" is more than a window into our culture; it's a doorway, inviting you to step through and "go there" with me.
So, whether you're drawn to the cultural riches of our nations or curious about the broader conversations that surround us, tune in to "EO EST." Let's go there together, and I promise to bring you back enriched with the knowledge and stories of our enduring legacy.
Until then, keep the spirit of exploration alive within you.
Allen's weekly talk and music show, EO EST, goes live each Wednesday at 3pm PST!
---