Booster Time is Now!
Written by daybreak on January 30, 2022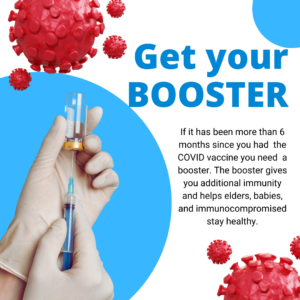 We at Daybreak Star Radio want all our community to stay safe and healthy.  This means that we have all been vaccinated and boosted and wear our masks.  We believe in protecting all our relations from this virus.
COVID-19 is indiscriminate.  It does not care about seasons, it does not care about age, and it does not care about race.  That means we must all do our part to keep those who cannot be vaccinated (children and some with medical issues) and those who may be vaccinated but have medical reasons that the vaccine is less affective (transplant recipients, cancer treatment patients, and other immunocompromised individuals).
We encourage you all to get your booster shot as directed by your personal physician or the CDC.
Who should get a COVID-19 booster shot?
Anyone five or older and…
at least five months past their second dose of Pfizer or Moderna…
at least two months past their first dose of J&J…
…should get a booster shot as soon as possible.
Check out the following for more information:
Seattle Indian Health Board
CDC
Great podcast from CIDRAP, The Osterholm Update, that has been going since the pandemic began
Chi Miigwetch
---